Hi There
---

My scanner is still on the fritz and I'm running out of time till you look at this page so I'm trying to say as much as I can. All of us are fine here and although three of us have the flu, none of us are in low spirits. Sometimes I have nights when I can hardly move from being sick and other times I can clean the whole house without breaking a sweat. I was telling dad that it's hard making a change to another province and from living in BC to living out here is a very hard transition.
Anyways this page will be an ongoing thing in which I can add pictures and write you a letter and you can view it as soon as it gets posted. I'll leave a note in your e-mail to let you know when it's a new letter and you can open the page right from your e-mail. Pretty cool, huh? I think so....makes it seem one step closer to us having a better conversation and you can find out what we're doing at the same time.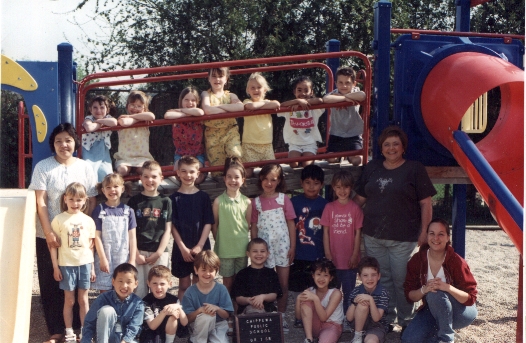 Above is Devin's school photo...He's now passed into grade two.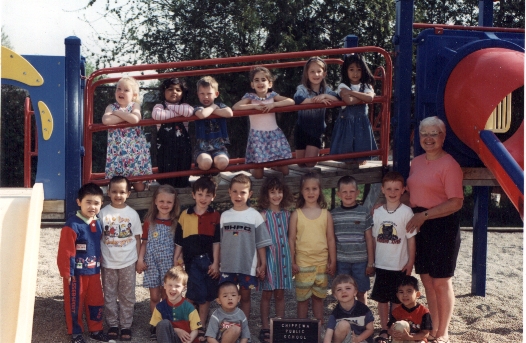 Here is Taylor and Nick's class. Taylor's now in grade 1 and Nick's in Senior Kindergarten. He loves the fact that he's getting bigger.
I hope I'm getting this done before you view it, I'm rushing as fast as I can to get it running right. I had problems with my webpage server and I hope you understand. As for me, well I'm plugging away at the graphics end of computers, producing such works as the one seen below. It's all done dot by dot to make everything look perfect and you two have always said I have a knack for art, so I guess that even goes for computer art.


Not too shabby, huh...Well, it's about time to get on net meeting to chat with you guys so I'll write more soon...Tomorrow I'll try to get some film developed to show you pictures of the kids learning to swim and some of the awards the kids have won. I love you both very much and miss you both so much more. Love Ed, Ang, and the kids